About Zen Green Tea
Zen Green Tea was founded by Erin in 2012 to bring fresh and delicious premium Japanese matcha green tea to Australia. Zen Green Tea is the preferred matcha for thousands of Australians. We have been featured on My Kitchen Rules as Australia's "Best Matcha" and we are stocked in over 3,000 health food stores across the country. Zen Green Tea has sold over one million cups of matcha across Australia!
Erin's philosophy is simple:
"Amazing quality matcha, sourced in a sustainable way and delivered with the best service."
Erin has built strong relationships with her chosen sustainable tea farms in Kyoto Japan to bring you the best quality matcha. She sources her tea in small batches that are freshly stone ground ensuring she delivers matcha packed with antioxidants. You will notice the bright green colour, the fresh naturally sweet spring flavour and all the health benefits that accompany drinking pure Japanese matcha green tea powder.
Erin – Zen Green Tea's Founder
Want to Know More About Our Matcha Tea?
We have a huge amount of information about our matcha. Click the links below to learn more:
Watch Us on My Kitchen Rules
Zen Green Tea is on TV! from Zen Green Tea on Vimeo.
Email Yourself Two Free Matcha eBooks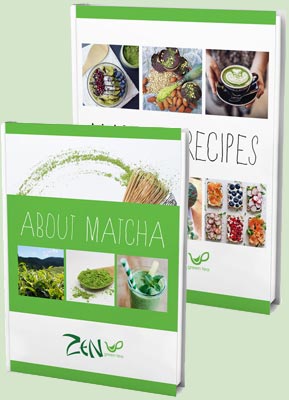 Matcha FAQ
What Our Customers Say

"I am hooked on Zen Green Tea! It has a smooth taste and is not bitter at all. The matcha is high quality with its the vibrant green colour and fine texture. It is easy to prepare, and to use in food as well as drinks. Its great at helping me concentrate and stay focussed, and also keeps my hunger at bay. This is my green tea of choice…no more tea bags for me!"

"I first fell in love with Zen Green Tea as I was a pretty intense coffee drinker, but I wanted something that would give me an energy lift and help my concentration in the afternoon but without the caffeine jitters and impact on my sleep. Zen Green Tea Matcha really did the trick, it gives me energy without feeling frenetic, and tastes so much fresher and less bitter than loose leaf green teas like Sencha."

"I have always loved tea but generally have stuck to English Breakfast tea with sugar. I started to find myself craving the sugar hit each afternoon so I would have a cup of tea but then have a big slump afterwards. After a recommendation by a friend I tried Zen Green Tea and loved it instantly. I still get the energy boost but there is no slump afterwards plus it is something that I can drink all year round. I love to carry a bottle of ice tea with me to sip throughout the day and then have a warm cup of tea after dinner. My energy levels have never been better! ".